Gazza_DJ
Premium Member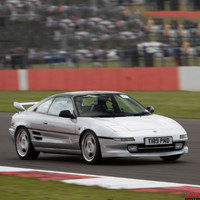 Joined: 29 Nov 2010
Posts: 3320

Feedback Score:

12
1997 Toyota MR2 Mk2 NA Rev4
Posted: Sat Jul 29, 2017 8:13 pm

Post subject: [Mk2] [Turbo] Gen3 Turbo vacuum / boost line routing / other pipes

---

Hi all,

Just want to check my pipes etc are in the right place as I've replaced everything. Followed photos/diagrams etc as best I could but I'd like someone else to have a peek!

So first up, the two ports on the back of the intake manifold. One was blanked already, the other I think is for the AC idle up controller? I don't have AC so can I just blank this and remove the idle up controller? So both will be blanked off:



Top side, larger loop around the TB to MAP sensor, small loop as I'm removing the charcoal canister. Line next to the catch can goes to the BOV I think?




I've put the line in here from the hot pipe to the L shaped hard line next to the distributor, but looking at the diagrams this is for the charcoal canister, right? So I can just cap this off instead?



Turbo to wastegate actuator:



These two for the turbo vsv - one goes to the hard line and onto the wastegate actuator, other goes to the hard line above. Will I still need this when the EBC goes in?



And the wastegate actuator connection mentioned above:



Manifold to fuel pressure regulator:



And finally, the small port on the catch can goes back to the head at the corner, right?