Bear87
Premium Member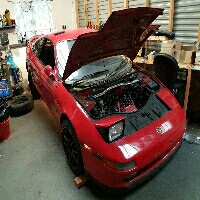 Joined: 28 Sep 2016
Posts: 280
Location: Essex
Feedback Score:

1
1992 Toyota MR2 Mk2 Turbo Rev2
Posted: Fri Aug 04, 2017 8:58 pm

Post subject: [Mk2] [NA] New N/a for daily. BAD BAD brakes!

---

hey guys,

so got myself a little rev 1 na (super cheap) while the turbo is off the road. Has done very little mileage with previous owner of 12 years with m.o.t's suggesting under 1000 miles a year.
I expected brakes to need to re seat and clean up the disc but they don't seem to have any power and are super spongy.
Have not had a chance to take a proper look yet but would it likely just need bleeding or is it a sign of seized calipers?

Also the steering wheel wont adjust up and down. Anyone come across this?

Cheers
Brad
_________________
Smoke me a kipper. I'll be back for breakfast.
1992 Rev 2 Turbo Super Red
1991 Rev 1 N/A Steel Mist Grey (daily)
pbmr2
Premium Member



Joined: 18 Jun 2010
Posts: 843

Feedback Score:

10
Posted: Mon Aug 14, 2017 7:29 am

Post subject:

---

sticky or stuck sliders, rusted into place pistons, old brake fluid, stuck handbrake cables and maybe handbrake mech on the calipers.

they would be the top things to look at.

The rev1 brakes are noticably worse than the rev2+ but at normal road speeds they should still work fine. the design of the sliding calipers tends to make them stick. pistons rust in place when not used for a long period. fluid goes off with time.

shoudln't need much more than a good going over and some proper redrubber grease on the sliders. then again if they are really bad they may need a rebuild. best investigate first.