Winger300




Joined: 11 Dec 2016
Posts: 15

Feedback Score:

0
Posted: Mon Jul 17, 2017 11:36 am

Post subject: [Mk2] [NA] Unwanted negative rear camber

---

Before fitting camber bolts I've noticed that one rear wheel already has lots of negative camber (~3 degrees). Standard bolts are fitted, and the other side is fine. It's visually noticeable with the top of the wheel tilting into the body.

I would have thought that any kind of crash damage or bent components would cause positive camber, as anything bent would surely shorten the path to the hub.

Top mount looks perfect, the strut itself looks straight, subframe looks straight.

What else could cause it to be so far out?
Gazza_DJ
Premium Member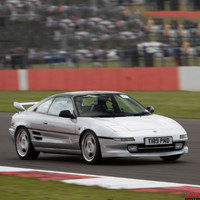 Joined: 29 Nov 2010
Posts: 3315

Feedback Score:

12
1997 Toyota MR2 Mk2 NA Rev4
Posted: Tue Jul 18, 2017 10:33 am

Post subject:

---

There's some adjustment available with the stock bolts. If you aren't mindful of that when bolting the hub to the strut it can go a bit wonky.

Loosen the two nuts/bolts that connect the hub to the strut. You should be able to pull the hub in or out. Pull the bottom out / push top in to add negative. Do the opposite to add positive.