johnsonca9




Joined: 07 Dec 2015
Posts: 18

Feedback Score:

0
Posted: Tue Apr 18, 2017 12:43 pm

Post subject: [Mk2] [Generic] Fibreglass toms scoop copies - value

---

I have a pair of these, both in grey primer, which I will be looking to sell.

I only have them, as they came with a spoiler in a package deal, and I wanted the spoiler only.

Having looked on ebay, these are listed as £70 each, albeit brand new.
Would I be off the mark listing the pair for £70, or am I going to be wildly optimistic?

New member on here, so I don't want to start off looking like a greedy idiot!!!
Bear87
Premium Member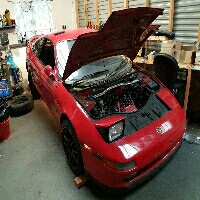 Joined: 28 Sep 2016
Posts: 280
Location: Essex
Feedback Score:

1
1992 Toyota MR2 Mk2 Turbo Rev2
Posted: Tue Apr 18, 2017 5:13 pm

Post subject:

---

Welcome to imoc!

You have to weigh up your postage costs. Most services such as parcel force and yodel etc wont insure fibreglass parts! So would be at buyers risk. Or collection from your address in which case the buyer would have to pay there travel costs.

There are many versions and copys of the "toms" scoops so price often reflects there initial fitment and quality.

Seems fair for the pair with risk/travel by the buyer to me but some of the other guys will prob have a better idea of what they have previously sold for on here.

Good luck!
_________________
Smoke me a kipper. I'll be back for breakfast.
1992 Rev 2 Turbo Super Red
1991 Rev 1 N/A Steel Mist Grey (daily)