1995 Toyota MR2 Mk2 Turbo Rev3

Owner

chrisE
Hilite Image



Total Views: 2

Description
Purchased in 2005 from jap import dealer with 47000 miles on the clock, it was completely stock besides the twin TV antennas on the inspection panels.
2nd owner from new.

Really needs it's own project thread now..
Gallery
Vehicle Pictures
Modification Pictures (Showing 11 Of 11 Images)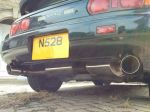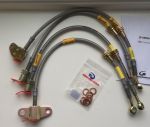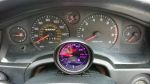 Quarter Mile Times

R/T

60 Foot

330 Foot

1/8 Mile

1/8 MPH

1000 FT

1/4 Mile

1/4 MPH

0.859

2.225

6.304

9.520

78.540

12.156

14.546

96.390
Engine

Modification

Rating

Cost

Install

Created

Updated

Aluminium radiator

9

70

0

Mon Jun 03, 2019 11:14

Mon Jun 03, 2019 11:14

Apexi Power Intake

10

120

0

Mon Mar 05, 2007 16:42

Thu Jul 22, 2010 8:54

Blueflame twin-exit exhaust

9

267

0

Fri Aug 11, 2006 18:28

Sat Aug 15, 2015 18:57

Charcoal canister delete

0

0

0

Wed Apr 03, 2019 15:34

Wed Apr 03, 2019 15:34

Mishimoto silicon hoses & T-bolt clamps

10

50

0

Fri May 25, 2018 14:21

Fri May 25, 2018 14:21

Mumby Engineering boost controller

8

14

0

Mon Mar 11, 2019 11:08

Mon Mar 11, 2019 11:08

PCV oil vapour catch canister

10

25

0

Mon May 13, 2019 8:14

Mon May 13, 2019 8:14

SPAL intercooler fan

10

60

0

Fri May 30, 2014 19:59

Mon Mar 11, 2019 11:09

Stoney Racing radiator & heater hoses

10

52

0

Tue Apr 23, 2019 16:47

Tue Apr 23, 2019 16:47

Stoney Racing silicone air intake hose

8

70

0

Fri Jun 15, 2018 9:26

Fri Jun 15, 2018 9:26

Throttle body coolant line delete

10

0

0

Mon Apr 15, 2019 20:11

Mon Apr 15, 2019 20:11

Turbo bov hardpipe replacement

10

20

0

Fri Apr 12, 2019 14:24

Fri Apr 12, 2019 14:26

XS Power I/C with upgraded hard pipes

9

60

0

Sat Sep 05, 2009 7:12

Thu May 30, 2019 7:46
Suspension

Modification

Rating

Cost

Install

Created

Updated

Black Bilstein front suspension struts

10

400

0

Fri May 25, 2018 14:32

Fri May 25, 2018 14:32

Black Bilstein rear suspension struts

10

500

0

Fri May 25, 2018 14:30

Wed May 30, 2018 19:17

Eibach Pro kit springs

9

161

0

Mon Jun 19, 2006 22:14

Fri Dec 14, 2007 18:10

KYB front top-mounts

9

80

0

Sun Jun 22, 2008 10:39

Sun Jun 22, 2008 10:39

Rear TRD strut brace

9

134

0

Sat Dec 08, 2007 12:22

Sat Dec 08, 2007 12:22
Brakes

Modification

Rating

Cost

Install

Created

Updated

Goodridge Brake Hoses

10

80

0

Wed Apr 03, 2019 15:32

Wed Apr 03, 2019 15:32
Alloys & Tyres

Modification

Rating

Cost

Install

Created

Updated

Work 16" 3 piece split-rims

9

330

0

Sun Apr 23, 2006 17:49

Tue Aug 05, 2014 20:06
Interior

Modification

Rating

Cost

Install

Created

Updated

Drink holder

7

10

0

Thu May 30, 2019 18:20

Thu May 30, 2019 18:20

Heater controls with upgraded bulbs

9

40

0

Thu Apr 12, 2018 8:25

Thu Apr 12, 2018 8:57

Leather handbrake gaiter

10

12

0

Tue Jan 10, 2006 22:38

Thu Jul 22, 2010 8:55

MOMO Jet steering wheel

10

136

0

Wed Apr 25, 2007 21:17

Thu Jul 22, 2010 8:55

Motor Meter boost gauge

6

30

0

Tue Apr 24, 2018 17:21

Wed Apr 25, 2018 8:28

Richbrook Speed Top gearknob

9

30

0

Fri May 04, 2018 10:56

Fri Apr 12, 2019 14:32

White map reading light LED bulbs

8

5

0

Mon Feb 06, 2006 16:49

Sat Mar 10, 2018 17:06
Security

Modification

Rating

Cost

Install

Created

Updated

Nextbase Duo HD dashcam

9

129

0

Thu May 17, 2018 15:18

Thu May 17, 2018 15:18