EarL
Premium Member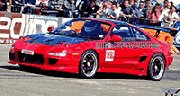 Joined: 18 Dec 2004
Posts: 6040

Feedback Score:

16
Posted: Thu Jun 15, 2017 11:26 am

Post subject: Where to source a TTE exhaust?

---

Hi people,

It's been a while, but I'm back (almost), but this time is a MkIII.

I haven't purchased the car yet, but have my eyes on a couple and one in particular that should be outside my door in a week or so.

However, I'd like to fit it with the TTE rear spoiler and exhaust when I pick it up.

Now I've been out of the MR2 scene for best part of 10 years, so my knowledge of sourcing parts is limited, so I'me coming to my old family, and asking for advice

Thanks guys,

EarL
Jaspa
IMOC Affiliated Trackday Organiser





Joined: 11 Feb 2005
Posts: 4736
Location: Gatwick (ish)
Feedback Score:

14
1986 Toyota MR2 Mk1b
Posted: Fri Jun 16, 2017 8:11 am

Post subject:

---

I don't think you can get the Exhaust new now so it's going to be the second hand route. TBH probably a better place to look is going to be the parts section of http://mr2roc.org/ or good old ebay.

I've sent you a pm btw.

HTH

Stuart
_________________


Quote:
I asked God for a bike, but I know God doesn't work that way. So I stole a bike and asked for forgiveness.